You think you are too fat to become a plus size model? You might be wrong!
Well it may interest you to know that top designers in the fashion industry have started to give a closer look at the high earning potentials and growing profits that's gained from the promotion and retail of fashionable and casual plus-size apparel.
Today's plus size woman is bold and confident, self-assured and trendy, and isn't really that bothered if referred to as "too fat". After all there are millions of women out there who are fat but attractively voluptuous.
Having beautiful curves is now in and "skinny bones" are looking less attractive than before. A bone thin model no more has the exclusive right to the fashion runway. And thankfully so.
Due to a growing demand for plus size clothes, many top fashion designers now need the services of 'fat' models to advertise and showcase their products which include outer apparel, inner wear, lingerie, clothing accessories, and swimwear.
So if you think you can do it, then go for it.
A good plan of action, tidy preparations, good looks and nice voluptuous curves can open doors that will lead you into a great plus size modelling career.
RELATED:  Jobs you can do as a curvy model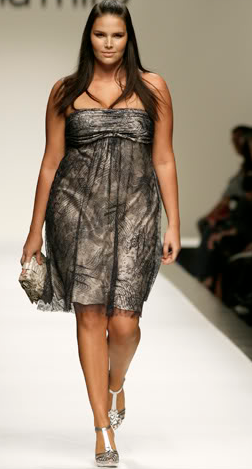 Fat Models Trend of Faking Curves is so "Out"
The look of "faking fat" (faux fat!) by padding up thin models to imitate curves is becoming unacceptable because we all find it hard to believe there are no full-figured curvy models out there.
Stunning curvy beauties that are voluptuous and well-formed are out there with many of them desirous to become professional models.
Fashion designers and merchandisers now realise that they don't need fat suits on thin models to showcase apparel for plus size women.
The time has come for reality in fashion campaigns and the elimination of fake airbrushed effects we all see in today's fashion magazines.
For the full-figured woman who desires to model, the sky is now the limit. It's about time for the fashion industry to get serious and finally fill that longer than necessary fashion and style gap for a plus size modelling career.
RELATED: Why curvy women are in high demand in the fashion industry
Must Read Article on 'Plus Size Fashion Modelling'
What does it take to become a fit, showroom or plus-size model?
On Model Talk Radio, Susan Levine who is President and CEO of MSA Models, a full-service model management company in the heart of New York City's garment district tells us……..Read More