It's certain you wish to find out what a plus size modelling career involves and why you too can aspire to become a model. This post should give you a clear idea of where you can fit in as a plus size model.
Many curvy girls who have the right shape to become a plus size model don't realise the potentials of their voluptuous bodies. And if you are reading this you probably aspire to become a model but you are a bit hesitant about the acceptance of your shape in the modelling industry.
However, being fat isn't such a big deal when it comes to today's fashion and style, and with the high demand for curvy girls to showcase stylish clothes, accessories, lingerie and swimwear, manufacturers in the fashion industry now seek plus size women.
But what does full figure modelling involve?
Having a career as a plus-size model has many similarities to that of stick thin models. Jobs are just as diverse and opportunities equally abound but most don't know it. The only difference between you and a thinner model is in your size, shape, and weight.
They model stylish clothes, and so can you too. They model for the make-up industry, you can too. They model lingerie and swimwear; you can aspire to do that as well. They are in print, and so can you too.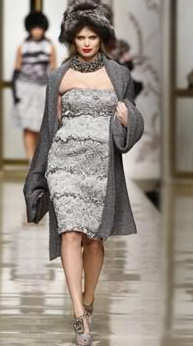 However, you've got the curves to show off; but they don't.
Don't worry that the precise definition of plus size varies; there is no concrete agreement in the industry yet as to exactly what size a plus size woman is.
Some in the fashion industry believe that any professional fashion model over a size 12 is plus size, which doesn't really make much sense. Another school of thought whose views correspond with our (consumers) definition of fat is that plus size starts from size 18. Now, that's a bit more realistic.
10 Career Prospects

Now that you know there is a great demand for curvy plus size models, it is certain you'll wish to know choices and career opportunities open in the industry.
It might be hard to believe, but there are many types of prospects that exist for teens and women from sizes 14 and up. The opportunities are vast and available for all curvy and fat shapes and silhouettes as you'll observe in the following list. Top jobs include:
Runway modelling
Plus size catalogue modelling
Swimwear and lingerie modelling
Plus size maternity
Trade show modelling
Modelling for TV commercials
Movie extras
Plus size modelling for commercial print
Plus size modelling for fashion print
Weight loss industry modelling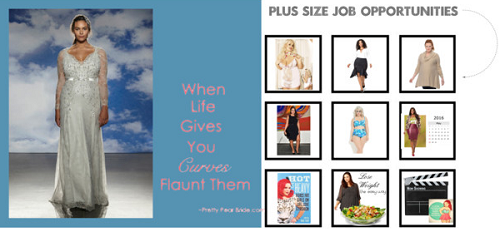 Who Hires Curvy Models?
It's a good thing to first know the career prospects of plus size modelling, but who are the top companies and corporations that hire fat models?
As a model, you don't just work for the clothing industry (fashion); you can also work for product manufacturers (ad campaigns, brand images), fashion accessories industry, the media (TV commercials, newspaper ads, calendars, and billboards), lingerie and swimwear industry, plus size fashion designers and the weight loss industry.
Companies that hire models to showcase their plus products include:
Macy's
Lane Bryant
Avenues
Catherine's
Always for Me
Fashion Bug
Ulla Popken
Junonia
Swimsuit for All
Silhouettes
Torrid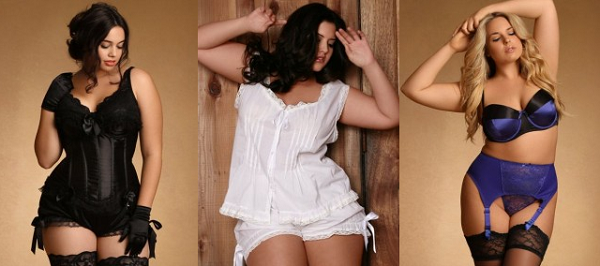 Today you will find a good number of famous plus size models who adorn glossy magazine covers. Many of them are also working as "spokes-models" for diverse fashion and other consumer products.
A good example is Barbara Brickner who is a famous plus-size fashion model and has appeared in many magazines, including the popular Glamour Magazine and Women's World. You too can aspire to be like her, a successful curvy model.
For more details from the relevant agencies, contact Model Scouts
Further Reading:
Plus Size Swimsuit and Lingerie Models
How to Market Your Shapely Plus Size & Create a Perfect Portfolio
The Difference Between Getting and Losing a Modelling Job